As I was looking through this forum last weekend I rediscovered some of the wonderful posts that have been made over the last 2 years. So I thought, "wow, I should make a
Best of Showcase
post so everyone can enjoy these!" I'll only post 1 or 2 photos from each thread but the link will take you to the original post where you'll find more photos and construction details. These are presented in chronological order starting with the oldest posts. I'll add new work to this Sticky thread so you still have a chance for fame!
---
My first post to this forum on
7/21/2009
---
These
amazing wood reels
were made by
John Elder
. John and I worked together on the Van Buren project.
---
My first student,
fishketcha
, posted photos of his
blued brass reel
. It also appears in
The Reelsmith's Primer
.
---
RJD

's first reel
came out great. He added a few interesting details like the foot posts and brass spool hub.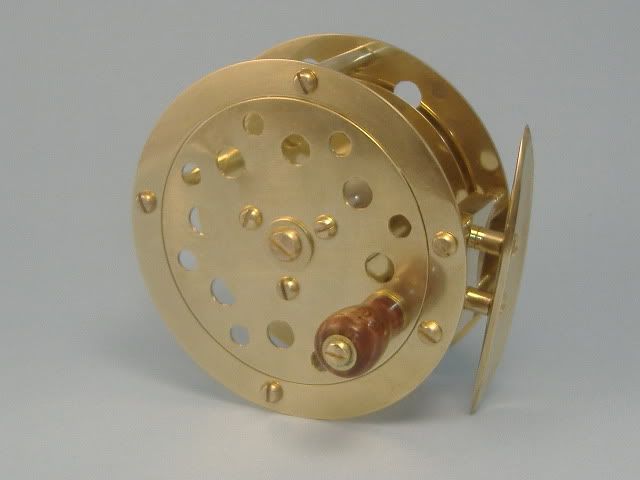 ---
Speyco

makes reels commercially
. They are quite attractive.
---
jturick

made this post of his first reel
mounted on a wood-strip rod he built. John has gone on to make other reels, including some amazing Aerials.
---
BunyanBug
made
his version of a Vom Hoffe reel
in a 2 5/8" size.
---
amston

posted his first reel and a leather case
he made.
---
Amabilis

has made a few reels
and I "won" one of his in the Reel Swap we held. He does beautiful work.
---
joe arguello

made this lovely brass and black Delrin reel
.
---
Dirkyharry
uses machine tools to create
some very beautiful reels
.
---
Some more reels
made by
Amabilis
.
---
swetool

does really nice work
. His reels are inspired by Pflueger and Ari't Hart.
---
This is the
New York reel
I made for the Van Buren project.
John Elder
made the rod.
---
EOTR
machined this
solid brass raised pillar reel
. Read the entire post (several times) it has a lot of great information in it.
---
Here is the post on
jturick's

Aerial reels
! Spectacular.
---
My mentor and friend
Peter Dallman

made these reels
and leather cases.
---
Stan
was our
first Aussie poster
to the thread.
---
Words can't describe
yorick's

engraved brass reel
. This is inspirational!
---
Not far behind comes another nice reel from Australia.
Thunderbolt made this aluminum reel
from parts out of the scrap heap.
---
swetool

made this beautiful raised pillar reel
and fitted wooden case. A friend of mine purchased it but I have not seen it yet!
---
This was the first reel I made with
stabilized and dyed burl wood.
---
wspur

made this beauty in brass
with a nicely shaped black grip.
---
jlindengren

posted this detailed thread
on his Overkill II reel made from found materials.
---
This
lovely brass and aluminum reel
was made by
KRC
.
---
Another fascinating thread
and reel by
jlindgren
.
---
jlindgren's

Underkill
has briar wood side plates.
---
My friend
dave49

uses Sherline machine tools to create these beauties
.
---
Baithound
is a talented reelsmith. He has a
unique approach to crafting his one of a kind reels
.
---
What can you say about
EOTR's

amazing spey reel
? Awesome!
---
Wanderer
machined this
Ari't Hart inspired reel
in aluminum.
---
Another
interesting hand-crafted reel
by my friend
Baithound
(I have some talented friends!)
---
dave49
's latest aluminum
raised pillar reel
modeled after an Edward Vom Hofe.
---
My friend
Steve's reels are unique and innovative
. Check out the 6" acrylic display model. It features a click that telegraphs FISH ON in Morse code.
---
EOTR
's
newest reel has an adjustable clicker
. Check out the 3D CAD drawings and photos in this post!
---
benhohnke
's
first reel turned out great
. Ben is from New South Wales and documented his build in his thread with some great construction photos.
---
watermole+
jumped in with both feet on his first reel! Not only did he produce a
beautiful Hardy inspired reel
, he restored an old Myford lathe (1954) and built some special tooling in the process.
---
And if that weren't enough, check out this fabulous Coxon Aerial by
watermole+
! This is his second reel:
Coxon Areial
. Simply beautiful brass work.
---
My German friend Maik (
mieser_12
) completed his
4th reel of his original design
. Maik has been very active promoting reelsmithing in Germany.
---
jlindengren
's
Briar/Oak Reel
is unique and very nice.